WINTER SESSION 1: NOVEMBER - DECEMBER 2023
Come train over the winter with RI Bulldogs Lacrosse at our Indoor Winter Box Lacrosse League and Skills Clinics to enhance your skills!  We have both a competitive youth and high school boys inhouse box league, an 8th-12th grade girls inhouse box league and a high school and youth co-ed skills clinic. 
The youth box teams will be formed based on number of registered players and a round robin schedule will be formed based on the number of teams we form.  Teams will all play each other at TeamWorks.
---
Please see the registration link for times and days.
Available options
1. Saturday Skills Clinics (K-12th)
2. Winter Inhouse Box League
3. COMBO Skills/Inhouse Box League
See registration link for days and times for each option.
Email inquiries can be sent to moc.l1702266171iamg@1702266171sgodl1702266171lubdn1702266171alsie1702266171dohr1702266171
Saturdays Skills
K-2nd (helmets, gloves and sticks BOYS) or (goggles and stick GIRLS)
3rd-12th (full gear required)
* All REGISTERED Bulldogs players for the 2022/2023 Season receive a 50% discount. If you are not yet registered and plan to play you must register for the season to receive the discount.
Please use the discount code sent to your email.
*Clinic offerings are subject to registration numbers.  If there are not enough players registered for a day/time slot we reserve the right to reschedule the clinic or cancel/refund/credit your payment.  If an event is canceled due to weather conditions there is  no guarantee of a make up date due to the reservations and restricted availability of the TeamWorks facility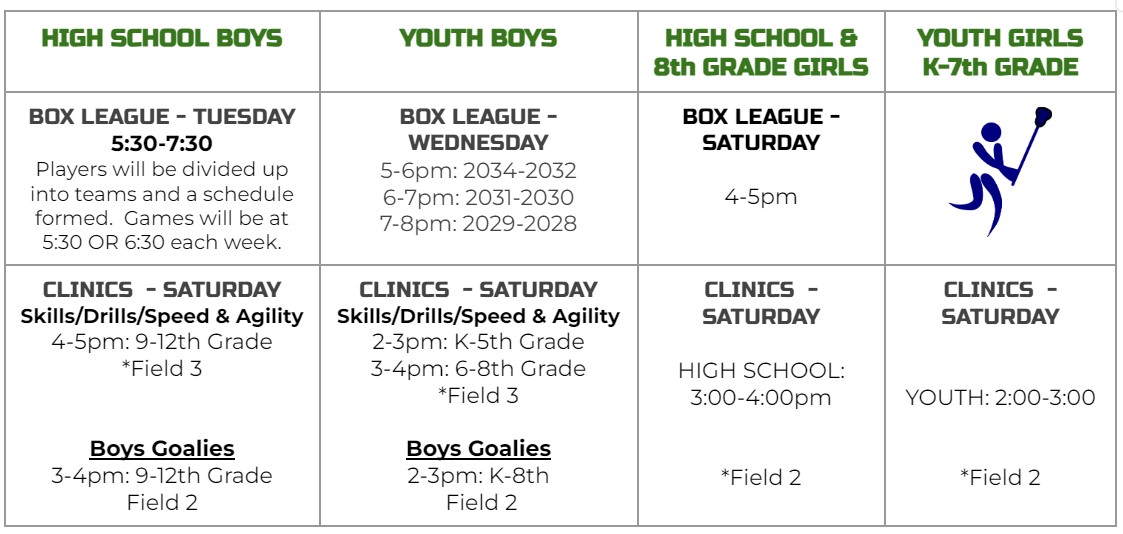 Saturdays: 
BOYS CLINICS
2-3pm | K-5th Field 3
3-4pm | 6-8th Field 3
4-5pm | 9-12th Field 3
K-8th | 2-3pm Field 2
9-12th | 3-4pm Field 2
Saturdays: GIRLS CLINIC/LEAGUE
K-7thth | 2-3pm | Field 2
8-12th  | 3-4pm | Field 2